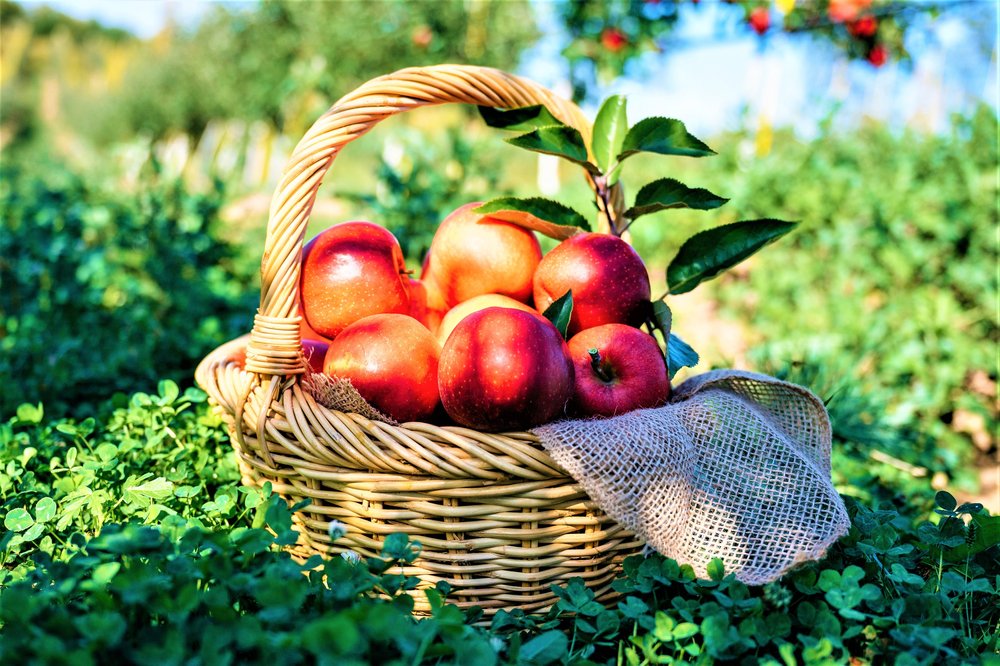 Organic foods you buy in the store may be fresh, but they still have to go through the traveling process to get to the store. Here at Sun Berry Orchard, you can hand-pick the freshest organically grown fruits around! We grow delicious apples, plums, peaches, pears and cherries along with a variety of vegetables and berries. Our fields offer you a true bonding experience with your family, a day of fun, and healthy food.
We established our first orchard in 2017 in the humble town of Hawthorn Woods, Illinois. We originally started by organically planting apples but eventually moved on to incorporate plums, cherries, peaches, pears, a variety of vegetables and berries into our orchards! Our passion for organically growing veggies and letting you pick them led us to buy an additional 250 acres of land in Woodstock, IL, where we planted 50 different kinds of organically grown apples and tart cherries, and 8 varieties of plums. We grow our fruits naturally and love to invite families to hand-pick all of our organically grown fruits. Rows of organic apple trees provide a beautiful view for your family to remember. We don't just love apples, plums, and cherries; we have a love of berries too. To achieve our dreams of an organically grown berry farm, we've spent the last 2 years planting raspberries, blackberries, and strawberries. These berries will be ready for your family to come and pick in 2021! Our berries are hand-grown with love and passion, ensuring that the berries are healthy and tasty!
Sergiy, the owner of Sun Berry Orchards, dreamed of owning his very own farm where he could spread the joy of hand-picking fruit with your family and getting the freshest organically grown fruit around. The mission at Sun Berry Orchard farm is not just allowing families to experience the joy of picking the freshest organically grown fruits, but to bring the beauty of nature to the lives of countless visitors.
The dream came to life when God blessed us with the orchard just two years ago and blessed us with healthy plants. Many of our visitors come from the city and learn all about the joy that farming organically-grown fruits can bring. Only at Sun Berry Orchard farm is it possible to experience the joy of nature so close up. We thank mother nature for providing us with the fertile ground, healthy animals, and beautiful fruits and vegetables that make our dream possible. Sergiy, the owner of Sun Berry Orchard, loves to pick his organically grown apples to make sure the taste will satisfy you!
We are passionate about what we do and absolutely love every step of the process! We love the smiles of our customers as they spend their day bonding and picking organically grown farm-fresh fruits and vegetables. Our orchards will bring peace of mind all while providing you with healthy food and a wonderful day. We aspire to provide families with a day of bonding, healthy food, and the peace of mind that comes with knowing that your food is organically grown with love.
A day in our fields will make you feel recharged and ready to take on the world once more. Spending just one day in our apple fields, taking in the beautiful rows of trees that line the fields, and learning about how we care for these beautiful plants, you feel recharged and energized. Being in nature at least 2 hours per week is proven to lower stress, so spending a full day in our orchard will help you feel refreshed!
The beautiful natural views that our orchard provides are more than enough to lower stress levels and improve your wellbeing! The great experiences of our orchard aren't limited to summer and fall, however. In the springtime, our fields are painted in a sea of white and pink blossoms. These blossoms, known as sakura in Japanese, are one of the most beautiful sights to behold. These blossoms are one of to unwind after a stressful day. Taking pictures with family and friends at the orchard during the springtime is an amazing bonding experience with friends, family, and nature.
Our orchards give visitors an experience unlike any other. From gorgeous rows of apples, plums, and cherries to our beautiful berry bushes, Sun Berry Orchards will provide an incredibly healing experience for your mental health. Nature therapy, a tried and true method of emotional healing, allows visitors of the orchards to gain a relaxed state of mind and improve their mental strength and focus. And the healing aspects don't stop there! Taking our organically grown fruit home with you provides health benefits beyond the orchard. Freshly-picked apples are much healthier than any apples you'll buy in the store. Being able to choose your own apples right off of the tree ensures that you're getting fruit that you're sure to enjoy! All of our fruit is organically grown, ready for you and your families to pick! Whether you're looking for plums, cherries, apples, or veggies; Sun Berry Orchards is the choice for you!
In the springtime, our apple trees are covered in the beautiful white and pink blossoms seen here. Our orchard is home to over 20 different kinds of apples. The picking season begins in late July with the arrival of our Lodi apples. Lodi apples are great for applesauce and pies! In early August our Jersey Mac, Early Blaze, and Dutchess apples are ready to pick. In late August, our Mcintosh and Gala apples are ready for you to take home. By mid-September, our Jonathan apples are ripe and ready. When October rolls around you can expect to find Empire, Golden Delicious, Jonagold, and Blushing Golden apples. The picking isn't over, though! Even in late October we still have Red Delicious, Braeburn, and Winesap. All of our apples are organically grown and cared for. Our apples are guaranteed to be the best you've tasted!
So come on down to Sun Berry Orchard farm, a day of fun and bonding awaits you. Here you can learn about the organic growing process, our fruits, and how we spend a day at the farm. Not only can you view our beautiful rows of apple trees and berry bushes, but you can visit our very own petting zoo! Tag us on your Instagram or Facebook accounts to share the joys of Sun Berry Orchard farm!
Support Local Agriculture!
Make a difference in our community by purchasing farm-fresh produce.